Nigerians celebrities can just be fake for no reason. Must you wear Gucci. what is wrong with H& M and Zara (if you must wear foreign)….As long as you are looking "sharp" no one will ask you any question.
Just check this out, Tiwa, Wizkid and Chioma Davido decided to rock Fendi T.shirts, the going price is about $740 dollars, of course they are big stars, they have the money.
Tonto Dike decided to copy them with a fake version, you can see how bright her Fendi yellow is. Na by force, gosh we are so elitist in Nigeria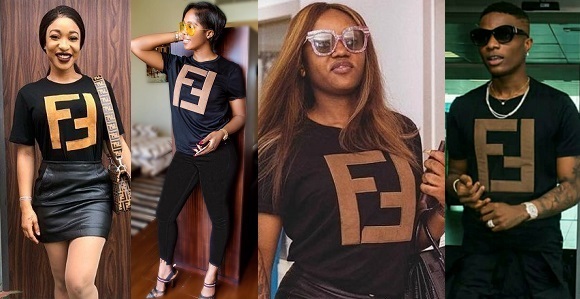 On the other hand, we Nigerians can be jobless though. (am not among.) we just want to rain on people's parade. Some Nigerians are designer VAR, they have time. They will zoom in, to confirm if what the celebrities are showing off with is original.
Sometimes the celebrities are falsely accused because the designer has many variants and not just one particular design.
Here are some more celebrities that have been accused, it does not mean they are all guilty though
Very recently Wizkid gifted his Manager Sunday Aare a Richard Millie watch, the going price of the cheapest variant is about $138,000.
This happened just a few days after Davido showed off his Rolex wrist watch.
Wizkid followed through by gifting his manager Sunday Aare a Richard Millie watch, but according to a close up shot…the watch is not what it says it is
Fake Louis vutton shirt Kizz Daniel
Some Oyibo guy with verified Instagram handle "Yeezy Busta" caught Kizz Daniel rocking a fake LV. I have no clue were he is from but his Instagram channel seems dedicated to busting fakes – well kizz Daniel's fake LV does not look bad though
The same page also previously called out patoranking for wearing fake Yeezy shoes
So Ace actress Mercy Aigbe was disturbing us on the gram with her head to toe Gucci.
Unfortunately the situation irked Nigeria UK based shopper known as Londongbajumo. she is a personal shopper and specializes on stocking designer clothes, shoes and assessories for resale.
She called out Mercy Aigbe to stop that nonsense and even showed her the authentic version of head to toe Gucci.
Fake birkin bag scandal…linda Ikeji
On February 16, Nigerian super blogger Linda Ikeji revealed she had purchased two Hermes Birkin bags after waiting eight months for them. and the drama of the Birkin bags began.
But her followers claimed the bags were fake, even tagging an unconfirmed birkin account who confirmed the bags are not made by them.
Linda at this point became really angry..
"Don't worry my darlings, I'll take all these down later but let's clarify this. So, I bought the bag for 14 thousand dollars on Sloan Street, UK. In Naira, that would be how much again? That would be about N4.8m. Damn, Linda!
I bought two at the same time cos I can afford it! And ive been looking for these babies for at least two years! I can afford to buy a N500m house but can't afford a $14k bag? B**ch pls! 😅😅
This lovely bag cost me more than these haters cars cost and they want to come disgrace me online? Lol. Lailai
The seventh one is an actress called Liz Da silva and her fake christian louboutins shoes. I can actually confirm this one was really fake